Description
TREADMILL DECK
Treadmill Decks Australia is a leading supplier of replacement treadmill decks, with a vast selection of domestic and commercial-sized decks in stock and ready to ship. As one of the largest stockists of affordable treadmill decks in the world, we are confident that we have the right product to meet your needs.
DURABLE CONSTRUCTION: Treadmill Decks Australia offers decks that are designed for long-lasting durability. These decks are engineered with high-quality materials that meet or exceed OEM standards, making them suitable for both commercial and residential treadmills. These decks, also known as treadmill boards, platforms, or base boards, are built to withstand the rigors of regular use and provide a stable and comfortable surface for running or walking.
TRACKED SHIPPING: Treadmill Decks is a proudly Australian-owned company that uses a range of trusted carriers, including Australia Post, Couriers Please, Fastway, Sendle, FedEx, and UPS, to deliver your treadmill deck quickly and securely. With a range of delivery options available, you can choose the option that best meets your needs and budget. No matter where you are located, you can count on Treadmill Decks to get your new deck to you efficiently and safely.
30 Years in the Fitness Industry: With over three decades of experience in the fitness industry, the team at Treadmill Decks is well-equipped to provide expert advice and ensure that you get the right treadmill deck for your needs. We have built up a wealth of knowledge and expertise that we are happy to share with our customers to help them make informed decisions about their purchases. .
TREADMILL DECK
The Treadmill Deck is the flat surface on which you walk or run while using your treadmill. It is an essential component of the machine, providing a stable and comfortable platform for your workouts. A high-quality treadmill deck is essential for ensuring a smooth, efficient, and enjoyable exercise experience. Our Treadmill Decks are made of durable, high-quality materials and are designed to withstand the rigors of regular use. They are also easy to install and maintain, making them a convenient and cost-effective solution for keeping your treadmill in top condition. Whether you're a serious runner or just looking to get in shape, a reliable treadmill deck is essential.
How to Measure Treadmill Deck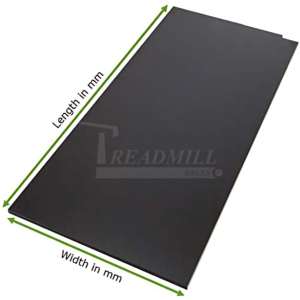 Measure the Width
Measure the Length
Measure the Thickness of the deck
Measure any Notches (i.e Top Left Notch)
Double check measurements
HOW TO PICK YOUR THICKNESS
It is generally recommended to replace a treadmill deck with one that is the same thickness or as close to the original deck as possible. This helps to ensure that the deck fits properly and functions properly on your treadmill. However, many machines are able to accommodate decks that are slightly thicker or thinner than the original, so it is worth checking the specifications of your treadmill to see what options are available. All decks that are 20mm or thicker are double-sided, which can help to extend their lifespan and improve their performance.
WHY BUY SILICONE OIL?
It is important to regularly lubricate your treadmill deck with Wax or Silicone oil to ensure that it performs at its best and lasts as long as possible. We recommend using 100% silicone oil to the deck every 20-30 hours of use can help to keep the treadmill belt running smoothly, lower the amps on the motor and control board, and extend the life of the machine. Treadmills that do not receive proper lubrication may experience motor or belt problems within 5 years or less, while those that are regularly lubricated with silicone oil can last for 10-20 years and run smoothly. Be sure to follow the manufacturer's instructions for lubricating your treadmill to ensure optimal performance and longevity.
INSTALLATION
When installing a new treadmill deck, it is important to keep your old deck as a reference. The new deck will come pre-cut to size, but you will need to use the old deck as a template to mark and drill the holes to ensure that everything lines up correctly with the mounting points on your treadmill. This will ensure that the new deck fits properly and functions properly on your machine.
SHIPPING
Location
*Estimated Shipping Time
Sydney
1-3 Business days
Melbourne
2-5 Business days
Queensland
2-6 Business days
South Australia Northern Territory

Western Australia

4-14 Business days
FLAT RATE SHIPPING STANDARD DELIVERY $19.95 AND EXPRESS $32.95
PLEASE NOTE: ALL DECKS COME BLANK AND WILL NEED TO BE DRILLED TO MATCH ORIGINAL DECK
IF YOUR UNABLE TO FIND YOUR MODEL OR BRAND
If you are unable to find the treadmill deck you need for your specific brand or model, don't worry! Just get in touch with us and we will do our best to help. We have state-of-the-art cutting machinery that allows us to create custom-sized treadmill decks to meet your needs. If the size you need is not in stock, we will work promptly to produce a made-to-measure deck for you. Simply contact us and we will do our best to assist you. CONTACT US HERE,